You know those surreal getaway stories about travelling to a special place, on a special day and doing lots of special things with your special friends? It's the kind of story that you can only find in Sunday light reading articles or in romantic novels. Well, whenever you stumble across such a piece of writing I bet you too wish you could go to a place like that on a perfect weekend, and did all kinds of crazy things with your dear friends… Now what if I told you I actually DID all that?! Uhum…and it was marvellous, vraiment génial, extraordinario and fantastico! All of that at the same time!
Once upon a time, or…better said around four weeks ago the time came for our so-much-awaited ESN UK Edinburgh weekend to happen. What do you mean you didn't know about it? Don't tell me you missed all the fun… Lucky you I'm here to fill you in! Well, well, well… On Thursday the 20th of November, Erasmus+ students from all over the UK together with their local friends chose to skip all their lectures from Friday and get on the ESN coaches which were to take them straight to the heart of Scotland…or to its capital city at least.
I personally left from one of the most southern starting points in England – Southampton – and had psychologically prepared myself in advance for the 10-hour coach journey that I was consciously submitting myself to. I was later brought to realise that Southampton is so much more south than Edinburgh itself that we do not even have the same banknotes! Cool! Anyway, back to my story. As soon as the coach hit the road, most of us plunged into a deep sleep. And we slept and slept…and slept. At around 7 o'clock in the morning the breathtaking beauty of the Scottish scenery hit us straight into our faces. We did not even need a magical kiss from a handsome prince or princess in order to awake us. The landscapes' uniqueness and strange wilderness fascinated us straight away and made us even giddier to get to our final destination! Two hours later we were disposing of our burdening luggage in the first hostel we could find and… that was it! After 10 hours of uncomfortably sleeping and dreaming of sheep, we were finally beginning our weekend adventure!
Did I already mention that students from all over the UK took part in this trip? And yeah, we were a lot of only 930 people?! And that was amazing! Wherever you went around Edinburgh, be it on the buzzing-with-energy Grassmarket or be it in the overly-populated Princes Mall, you were bound to bump into a group of friendly Erasmuses effortlessly giggling and photographically immortalising every single moment of their perfect weekend.
Being a bit of a rebel myself and absolutely hungry for adventure, I grabbed a few of my favourite people in the world and set off to explore Edinburgh on foot. This involved a lot of getting-lost moments, many more finding-our-way epiphanies, a rather considerable amount of souvenir shopping and around half a million hilarious memories and pictures. The city of Edinburgh is simply amazing. Every small, ancient street takes you up another new way and allows you to discover another intimate place filled with beauty. The city is somehow built on two levels, which makes it all the more confusing and fun to get from one place to another.
There are so many things to see around Edinburgh that one weekend is SIMPLY not enough. My control-freak nature enabled me to come up with a to-do list of the things I absolutely wanted to see before getting back to the south. I am proud to say that I managed to get to more than half of them and found myself in fascinating places I would only read about in history books and touristy flyers. I took my feet to the Scots Monument, to the Holyrood Palace, to the Edinburgh Castle, to the National Museum of Scotland, to the St. Giles' Cathedral and even to the weirdest and funniest place I have ever seen in my life so far, namely The Camera Obscura. If you are a fan of visual illusions and want to have your mind blown away every two seconds, then I do recommend you to give it a try. Make sure you bring a good old friend with you so that you double-trouble the fun!  This is what I did at least and the weekend slowly got to its perfect end…
Not before the party started, though! "Once Erasmus, always Erasmus!", right? And Erasmus people do have a reputation to keep. The two parties we had organised for us were the perfect opportunity to get everyone together, regardless of their country of origin, regardless of their southern or northern new origins and regardless of their mood. Fatigue was the only thing everyone had to fight with during the weekend. But people did not want to miss out on a perfect night of clubbing with their new friends in the capital of SCOTLAND!
On Sunday morning I had one more chance at getting all my souvenir gifts for my friends from a tiny, yet lovely shop on the Grassmarket. I ended up buying lots of souvenirs for myself (Well done, selfish!) and even discovered that the southern English banknotes were not the same as the northern Scottish ones. Only when the lovely shop assistant told me "You lady must be from the South! You don't get these pretty ones down there!" did I realise the silly look I must have had on my awe-stricken face, haha.
There was no more time to waste though. Once the group photo was taken, we all headed back to the hostels to pick up our luggage and then hop on the coaches responsible with taking us back "home" safe and sound. I expected the trip to be annoying, sad and tiring…well, it was rather tiring…I'll give you that. However, everyone seemed to spend most of their time desperately fighting the tiredness in order to talk and have fun with their new friends! Having seen that I realised that being on Erasmus actually means making many new friends and constantly sharing with them bits and bobs of your memories and experiences.  I am one of those who believe that the people around you help you grow and become a better person by just befriending you and so allowing you to enter their personal space.
I think the weekend we all lived in Edinburgh will stay with us forever… I definitely want to go back there again… I do know that no matter when I will return and whom I will go there with, Edinburgh will always remain in my memory as the perfect destination for a crazy and unexpected ESN weekend getaway! #ThisisESN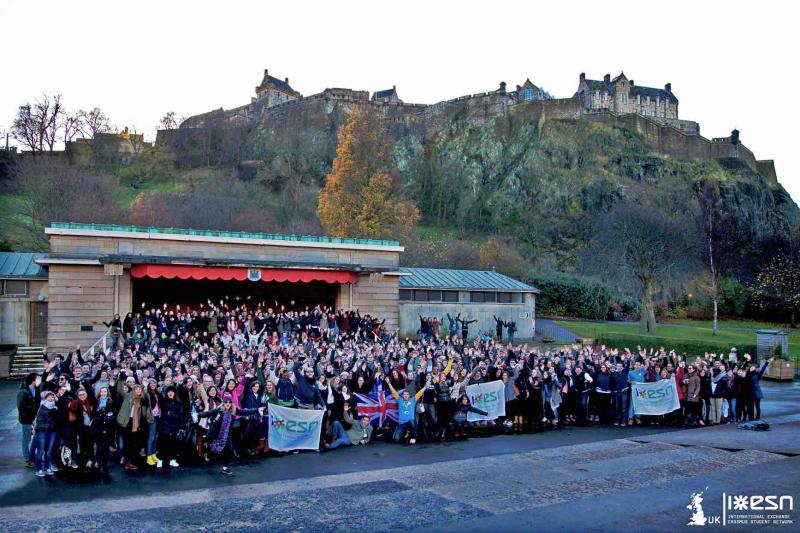 Written by  Madalina Cretu - ESN UK Publication Specialist and Erasmus+ student from France, currently having the time of her life down south in Southampton
The credits for the amazing pictures go to Juliette van Kestener