ESN Southampton counts itself among the ESN sections organising social impact activities to mark the SocialErasmus week in November 2014.
…but what exactly IS SocialErasmus?
SocialErasmus is an ESN international initiative aimed at facilitating the international and exchange students' engagement with their local community by offering them various volunteering opportunities. The project is considered to be highly beneficial for both the student population and the community as it promotes organising social impact activities, which facilitate the well integration of the international students in the new environment of their host countries. Between the 10th and 16th of November 2014, the SocialErasmus Autumn week happened all over Europe thanks to the amazing initiatives of many Erasmus and exchange people.
Now, back to ESN Southampton's account about how their home and international students brought their contribution to improving the relationship with the local community.
First of all, there was the Erasmus+ Fair: designed as a two-day "ambulant" information centre, this educational event was aimed at home students willing to take part in an exchange programme in the years to come. The ESN Southampton committee members, as well as some Erasmus+ students currently doing their year abroad in the UK shared their insights and knowledge about how life-changing and important such an experience can be. Home students who came to see the stand also got familiarised with the opportunities available for them to become involved with the ESN family! As a bonus, they were given delicious cookies and other international sweets! Saving the best for last, they could also win prizes and place their own pin on the "Erasmus+ Map" standing for their dream destination.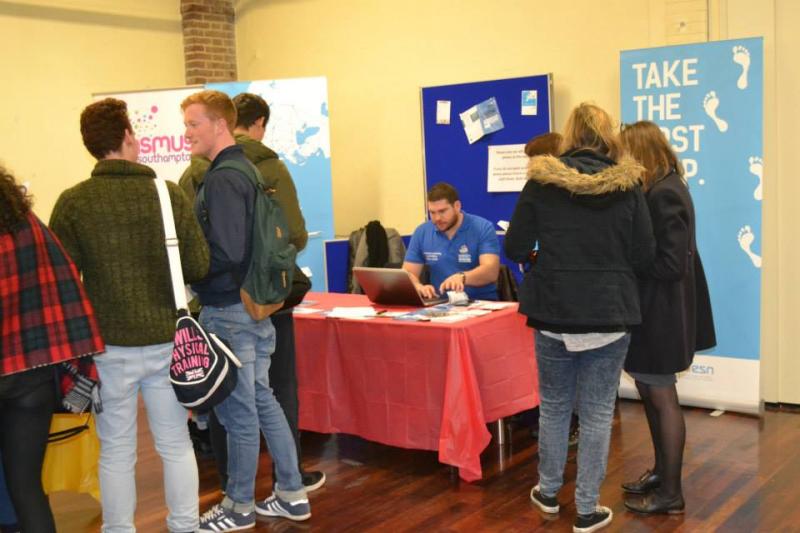 Secondly, there came the Movember Party! As you all must very well know by now, Movember November encourages "moustache-growing behaviours" in the name of charity! Raising awareness on men's health issues, this funny, yet important occasion allows people of all ages to engage with a social cause, while still keeping a smile on their face…and a moustache as a matter of fact!  The party reunited both Erasmus and home students and all the money raised from selling tickets and fake moustaches were donated to a local charity.
Last, but not least, there was an International dinner…and food bank at the same time! Students were invited to a committee member's house and kitchen to host together an international feast. They all brought the most delicious traditional dishes from their culture and so people ended up eating quite a lot: they were spoilt with food varying from the traditional British sausage rolls to a German potato salad and…delicious cupcakes. People taking part in the eating of the dinner were also invited to bring with them any food they wanted to donate as a contribution to the food bank the ESN committee organised. This was a very good opportunity for students to enjoy a very good meal, learn new things about other cultures and also help the community. As a result, an entire box of tinned food, pasta, rice and other food were collected. The committee donated everything to the Southampton City Mission charity in Southampton.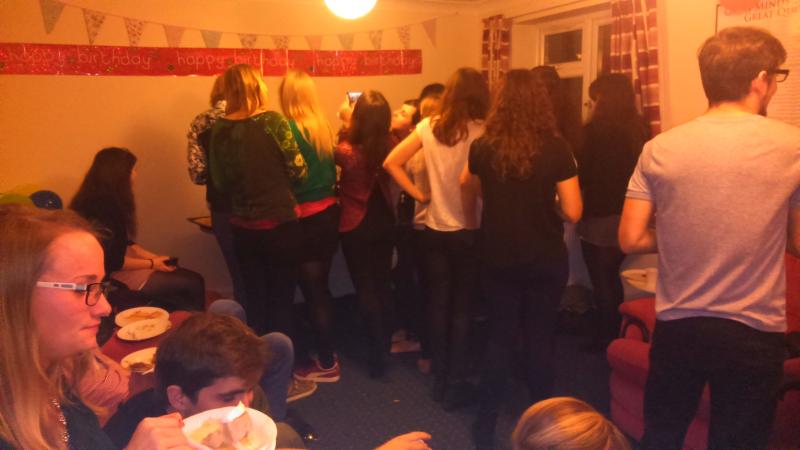 Well, well, well… from what we have read, I guess we can all see how high the ESN Southampton happy people reached, how further they went and how much of a social impact they did during the November SocialErasmus week. If you feel like making a difference to your local community you'll be pleased to know that you'll get a second chance at it! The SocialErasmus Spring week will soon happen in 2015! Stay posted and follow all the updates here!
And don't forget: Reach higher! Go further! Go social! #ThisIsESN
Written by Madalina Cretu – ESN UK Publications Specialist and Erasmus+ Student in Southampton