I was really excited when I was told I had the opportunity to go to Brussels to the Partnership and Treasurer Managers meeting! I had never been to Brussels before and I couldn't believe that I was actually going to get to stay in the ESN house for the first time! However, when the time came, I wasn't sure if it was such a good idea for me to go. I had tons of work to do and I was nervous because I didn't know anyone there... Well, I am glad to say that those things didn't stop me from going! I arrived in Brussels on a Thursday night and made my way to the House, following the directions that a friend had previously given me. I arrived shortly after two other girls and was greeted by a funny man who showed us around the house as though he lived there. However, after giving us a tour of the place, he told us that he, too, had just arrived. It was obvious that he already felt like home. 
The house was very different than what I had imagined. Everything was very simple and…covered in ESN stickers!!! The kitchen was tiny and so was the dining room, which only had 6 chairs - although I am pretty sure there are usually more people than that sitting around it. I soon discovered the right way to do it, namely by sharing chairs. The house had lots of bedrooms and the living room was huge, as if anticipating the large number of guests it accommodates every year.  There were mattresses piled up in a corner so we simply grabbed one of those, a set of sheets and voilà! It was just like having a pyjama party. It's funny because the house really couldn't have been more student-friendly, which I think shows you that ESN is really 100% student-oriented…in every possible way, as a matter of fact.
Anyways, as soon as I got there all my concerns about not knowing anyone were gone. That night we played games and got to know each other and it was AWESOME. Everyone came from different places around Europe and it was great to all meet in Brussels. We went to sleep quite early that night even though we didn't actually manage to wake up very early the day after...
Friday started with a big breakfast that we were indeed going to need for the day. We began the meeting with the country presentations and I was astonished to see how developed other countries are. Italy's presentation was incredible, with some really big names and a very professional representative. Nevertheless, it was also interesting to see how other countries, like us, were still in their early stages, trying to battle their way in. That day we were also introduced to some other current and potential projects and partners like erasmusintern.org or Hostelling International.  In the evening we went to the Christmas market, which was a very beautiful place indeed. I was really happy to see a churro stand because I love this food so I got everyone to try it with me! Afterwards we had a little wander around the city and we went dancing in a nearby pub.
On Saturday we were divided into 2 groups: treasurers and partnerships. That day was really interesting and I learnt so much from it! We participated in many discussions and workshops that encouraged us to share our best practices and help each other. We did ESNcard pitching and negotiations and we also went through the projects that the ESN International Partnerships team is considering at the moment. We were all able to give out opinions and it was great to see how it all came together! I got to see with my own eyes the potential that ESN has as an international organisation. It was truly inspiring to realise that the partnership managers do the same job as we do, but at a much bigger scale. They were really good at giving us advice on how to deal with partners more efficiently. Obviously after all that hard work we all deserved a break so we had a super nice fajitas dinner (the best fajitas I've ever had) and then we went partying again! "Once Erasmus, always Erasmus!" they say!
Sunday was the final day when we all got together one more time and provided the organisers with some feedback regarding our whole experience. Then we all cleaned the house together and said ''See you soon!'' :) I left on Sunday at midnight after visiting the Atrium and having dinner with my new friends.
In conclusion, it was an amazing weekend and I couldn't be happier with all the things I learnt and all the people that I met over there. Attending international events always makes me see the true value of this network and how it is really worth being part of such a big organisation. Now I can say from my own experience that ESN truly enables us to learn and support each other by sharing knowledge and experiences! #ThisIsESN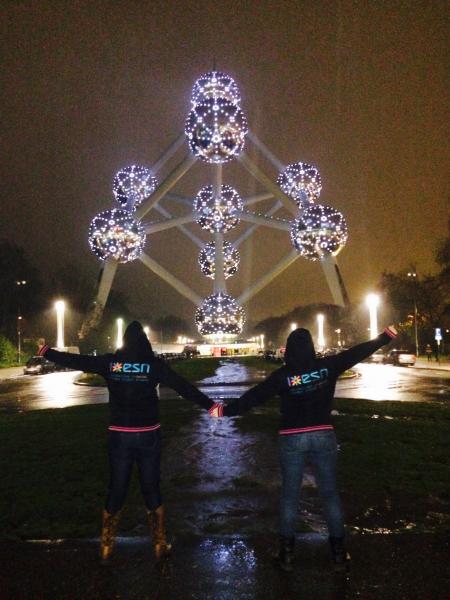 Written by Elena Saldaña Quintans - ESN UK Partnership Team Member and ESN Oxford Brookes President